It is safe to say that we all have a room in our house that we struggle with to get just right. For me that is the living room at the moment.
The door we use the most is the front door, which opens straight into the living room. There is a small coat closet which houses our heavier coats and bulkier shoes. What my main living room struggle is trying to use the furniture we already have for enough seating.
Current Layout
Currently we have an Ikea chair with a foot rest, and a second hand lazy boy with an end table in-between. There is a lamp on the end table with a few other miscellaneous items. Underneath the front window we have a wooden chest that houses all of our board games.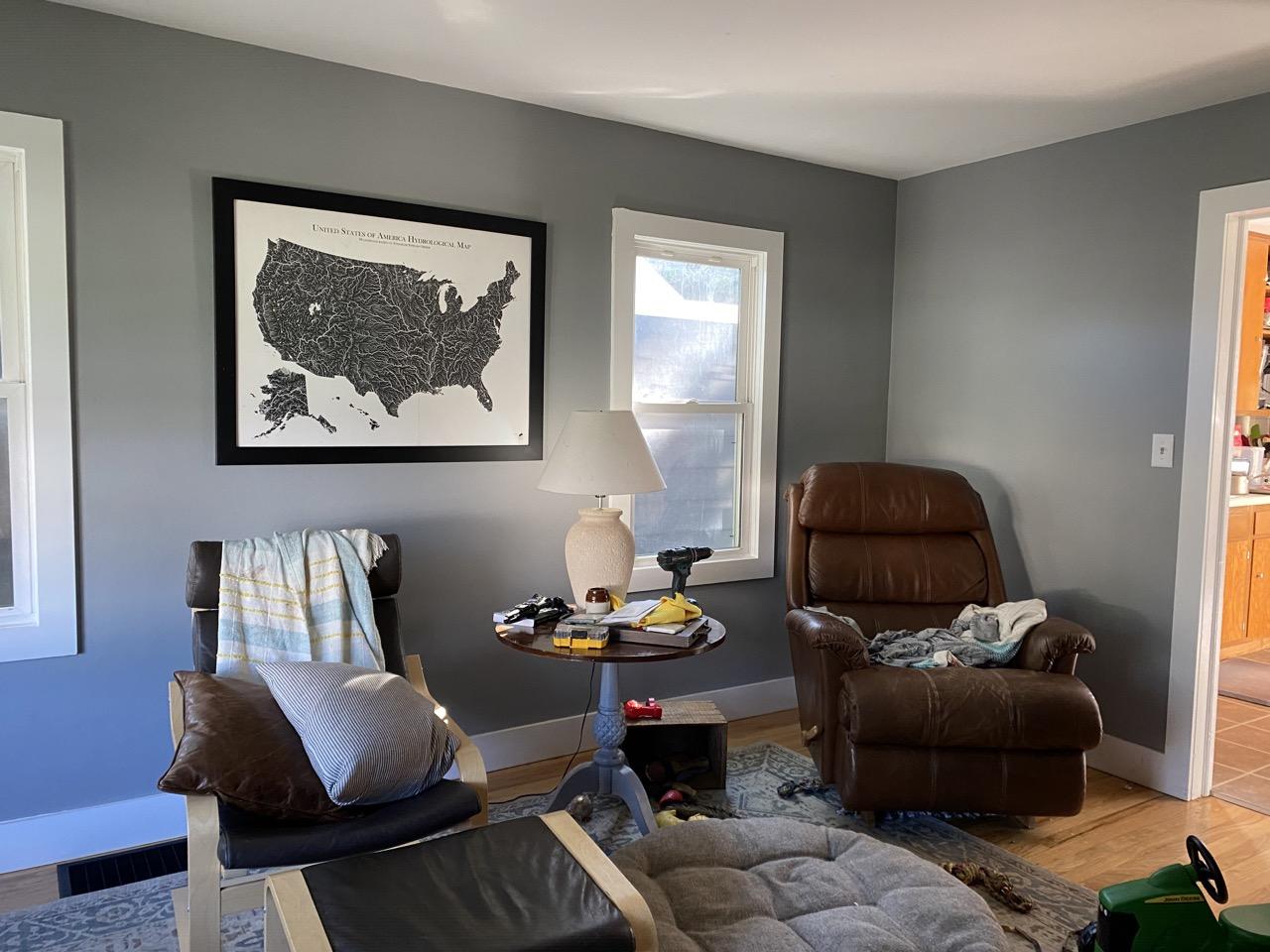 As we look to the wall with the tv we have a medium height live wood edge coffee table/ bench that honestly gets used as a drop zone majority of the time which drives me a little crazy.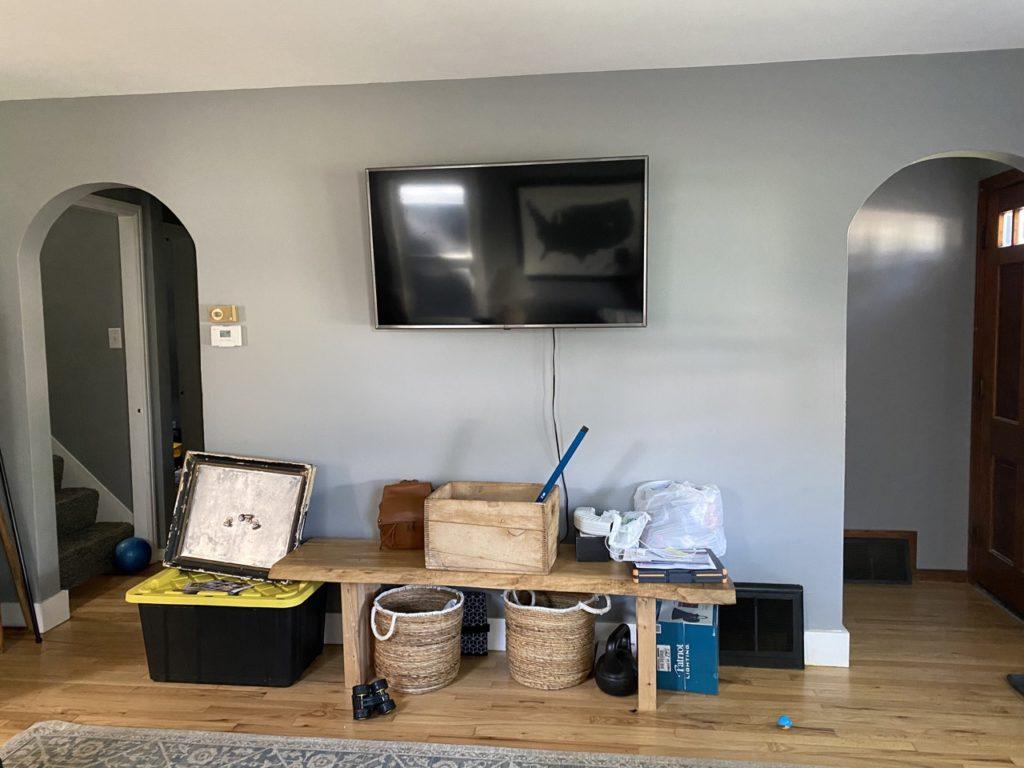 Then there is a beautiful lawyer cabinet that is the absolute perfect size for this space. This won't be moving. (the decor will make more sense once I get to it. lol
Showing you exactly what our living room looks like (clutter and all) after being moved in about a month, with a very busy toddler, and large dog running around all day!
Struggles to Fix
Allowing this living room space to function better would be key. It looks a little funky since we don't have a couch yet. I have mentioned our couch search before in this post We Need a New Couch. We sold our old couch since it wouldn't fit through any of the doors (literally!) You can find out the one I am dreaming about (and saving for) in that post.
If (when) we get a couch I think that will solve a lot of my living room woes (I hope!) It would also be nice to put a taller side board/ console underneath the TV that would become a more ideal drop zone since it would be taller and out of reach of small hands for mail and keys rather than the end table that houses the lamp. It gets so CLUTTERED so quickly.
The blanket box under the window (looks so cozy since hanging my curtains!) has options once the couch is in the equation. It would either stay were it is, become our coffee table, or get moved somewhere else. Truly depends on which couch we get.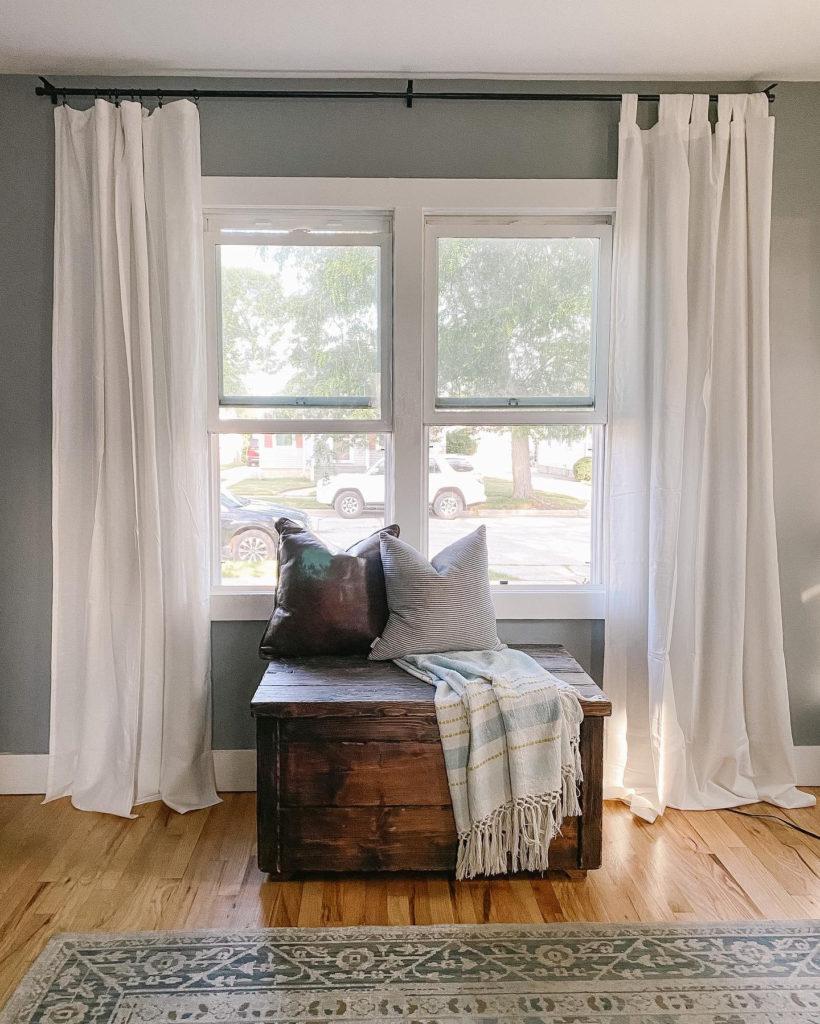 I shared a poll over on instagram asking if you like the tabs or the rings better on the curtains and the rings won! Would you have picked the rings too? Follow me over on IG to weigh in on the fun! Find me @kmdcreates
Our live edge bench would either become our coffee table or get moved somewhere else.
As for the chairs we would keep the lazy boy in the same spot and the Ikea chair with the foot rest would be moved to my sons room, Since we don't have a chair in there at the moment.
Hoping this all makes sense. As much of a visual person that I am this has helped clarify the picture in my head of what this room *could* look like and that is exciting! What is the one room that you struggle with the most?